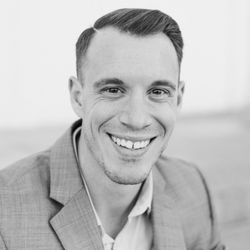 Alex Sanfilippo is a dedicated entrepreneur with a varied career across multiple industries. His most recent project is PodMatch, a software solution for the podcasting field that matches the perfect hosts and guests together for great interviews. His initial podcasting experience came from DailyPS, a multi-author blog with more than 130 contributors that eventually included a podcast. 
Alex had to adapt with the times early on, transitioning away from REI after the housing crisis. He moved into the aerospace industry, working as the Director of Commercial Operations at Team JAS. 
Here's a glimpse of what you'll learn: 
How Alex Sanfilippo diversified early on and how it's influenced his career
What is PodMatch, and how does the software actually help podcasters?
The importance of trust in business and networking
Using podcasts in the right way for the right industries
How incorporating space into your schedule can make you more productive
In this episode…
Podcasts are a better outlet than ever before for businesses and entrepreneurs alike. With so many eyes and ears leaving traditional media, many of them are turning towards podcasts to get their fix. The space is growing quickly and creating fertile soil for compelling content that can work for you. There is, however, a right and wrong way to use them.
Alex Sanfilippo has learned firsthand through both success and failure. After leaving REI during the housing crisis, Alex continued moving forward and finding new avenues. He created a successful blog and podcast, and now he uses those same skills to fuel his latest company, PodMatch. His system is designed to help podcasters reach their fullest potential, giving his advice to those who will listen.
In this episode of The Sleep For Side Hustlers Podcast, Riley Jarvis talks with Alex Sanfilippo, the SaaS Founder at PodMatch, about podcasts and how to use them the right way. They talk about Alex's career and how he's found success in the platform. They then go into the software behind PodMatch, which industries work well with podcasts, and the importance of trust in business. Check out the episode to hear it all for yourself!
Resources mentioned in this episode:
Sponsor for this episode…
This episode is sponsored by Sleep For Side Hustlers.
At Sleep For Side Hustlers, we help side hustle entrepreneurs, including rideshare drivers, gig workers, e-commerce store owners, Airbnb hosts, crypto traders, and product flippers, to be more productive and make more money by transforming their sleep with our best-in-class individualized sleep training. 
Riley Jarvis is the CEO and Founder of Sleep For Side Hustlers, with more than seven years of experience studying sleep and biohacking. From his online course to Riley's Executive Sleep Coaching, we have a solution to suit any sleep need you might have.
Do you want to become a productivity machine, make genius business decisions, stop stress, build better relationships, and even ramp up your revenue?
All you need is a good night's sleep. 
Visit https://sleepforsidehustlers.com/ or
email [email protected] to learn more.