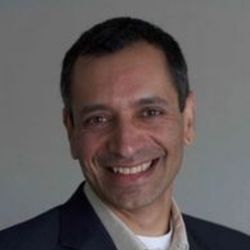 Dr. Ruchir Sehra is a man of many careers and talents, working primarily as a health and software entrepreneur. He is the CEO of Resonea, a company that seeks to transform employees' sleep and thus transform their performance. Before Resonea, he was the Chief Medical Officer at both Abbott and Topera. 
Dr. Sehra is also an inventor with more than 100 patents issued worldwide. He has worked with multiple companies to guide them all the way through their inception to their exit. He also spent nearly a decade in electrophysiology, where he has much of his experience and expertise. He has his own podcast titled The Performance Enhancer Podcast, where he interviews experts on health and performance for teaching people how to get to the next level.
Here's a glimpse of what you'll learn: 
How rest affects every part of sleep and medicine
The early days of Resonea and how they helped their patients
What were the largest challenges Dr. Ruchir Sehra had to overcome?
Work culture and why it is crucial for your employees' health
Dr. Sehra's experience moving to the US and what he learned from his grandmother
Learning to live in the uncomfortable spaces in life
In this episode…
We know the importance of getting a good night's sleep, but what can happen once you make the change? Dr. Ruchir Sehra spent most of his career burning the candle at both ends, working on multiple startups and companies with little rest. He not only saw the benefit in his own life after the switch but in the lives of his clients as well.
Dr. Sehra is the CEO of Resonea, which helps employees achieve better health and sleep for greater performance. His career has led him from electrophysiology to entrepreneurship to invention and more. Across his time in these fields, he uncovered a blueprint to making the most out of your life and finding your stride. Want to know how he did it?
In this episode of The Sleep for Side Hustlers Podcast, Riley Jarvis invites Dr. Ruchir Sehra, the CEO of Resonea, on to talk about a host of topics. The two dive into sleep, work culture, and the power of positive thinking. They also go into more depth on what Resonea does for their clients. Lastly, Dr. Sehra goes through his own story and how he found success throughout his career. Stay tuned for all this and more!
Resources mentioned in this episode:
Sponsor for this episode…
This episode is sponsored by Sleep For Side Hustlers.
At Sleep For Side Hustlers, we help side hustle entrepreneurs, including rideshare drivers, gig workers, e-commerce store owners, Airbnb hosts, crypto traders, and product flippers, to be more productive and make more money by transforming their sleep with our best-in-class individualized sleep training. 
Riley Jarvis is the CEO and Founder of Sleep For Side Hustlers, with more than seven years of experience studying sleep and biohacking. From his online course to Riley's Executive Sleep Coaching, we have a solution to suit any sleep need you might have.
Do you want to become a productivity machine, make genius business decisions, stop stress, build better relationships, and even ramp up your revenue?
All you need is a good night's sleep. 
Visit https://sleepforsidehustlers.com/ or
email [email protected] to learn more.